Flint revives Friday market in town centre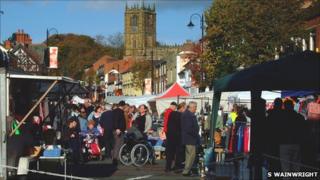 A Flintshire town is reviving its market in an attempt to entice shoppers back on to the high street.
Church Street in Flint is being closed to traffic on Fridays for the next three months to try to boost trade for shoppers and traders.
It comes as Wrexham's town centre street market has gone twice weekly after traders said there was demand.
A local study last year said improving weekly markets could be key to improving the fortunes of town centres.
Flint Town Council is behind the plan to lure shoppers from the retail park back into the town.
They are providing pitches for free during the trial.
"People have asked us to restart it," said councillor Terry Renshaw. "People are always looking for bargains."
A market has been held in Flint since the 1200s and was extremely popular in 1970s, according to local historian Vicky Perfect.
She said stalls started to dwindle as big supermarkets began to take over and a temporary move away from its former location by the town hall during building work did not help.
"It is a good idea to move it into the street," she said. "It will be good for shops and the stalls."
'Historic nod'
Flintshire council commissioned a report last year looking at ways of improving the fortunes of its town centres.
The 120-page study considered the future of markets in Mold, Holywell, Flint and Connah's Quay as a key feature to town centre redevelopment.
And that is a sentiment endorsed by Wrexham indoor market stall holder Rob Clarke who is chair of the Wrexham branch of the National Market Traders' Federation.
"Markets are a nice way to make towns individual and add a personal touch," he said.
Wrexham's outdoor weekly market has begun holding an additional day on Thursdays as traders said there was extra demand from shoppers who could not always make it to the Monday market.
Town centre manager Isobel Watson said the market was proving popular with a waiting list for traders.
She said the decision was taken to hold the additional day on Thursday as it did not clash with out market days in the area and as an historic nod to the former Thursday market which was held in the town up until the 1890s.
She said Wrexham had a long history as a market town due to the success of its three indoor markets.