Tourism vision for Pontcysyllte aqueduct heritage site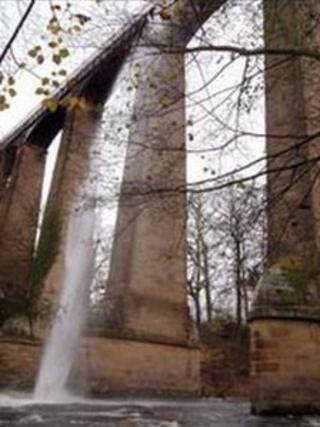 A tourism plan to maximise the economic benefits from the Pontcysyllte Aqueduct World Heritage Site is being developed.
The aqueduct, built by Thomas Telford and William Jessop, was given the accolade by Unesco in June 2009.
Already, 200,000 tourists visit the landmark structure every year but three neighbouring councils want to build on its world heritage status.
The five-year plan aims to bring new jobs, as well as bringing visitors along the Llangollen canal.
A draft plan, which is recommended for approval by Wrexham councillors meeting on Thursday, aims at bringing economic regeneration benefits from World Heritage Site status.
But it stresses it wants to consider the impact on residents as well as making sure tourism is balanced to preserve the "integrity and authenticity" of the site.
"There is a delicate balance to be achieved between ensuring the visitor has a memorable and enjoyable experience and will want to return," says the report.
The draft plan says "civic pride" and "wealth creation" for north east Wales are its "key drivers".
It identifies Chirk, Froncysyllte, Trevor, Cefn Mawr, and Llangollen and Llantysilio in Denbighshire, as communities that are likely to "need individual attention as their future is likely to be significantly impacted upon".
It also mentions the Flexsys site at Cefn Mawr, as well as the nearby Air Products factory, which saw the loss of more than 360 jobs in the last year.
"There is a need to regenerate the whole area and provide employment through the development of a master plan," says the report.
The draft plan sets out goals for the world heritage site between now and 2020 and beyond.
The main focus in the medium term, between 2013 and 2020, will be to develop the infrastructure and market the heritage site as a "major venue for north east Wales."
In the long term, after 2020, it recognises that public funding will be needed from outside, as the site's economic potential "begins to be fulfilled".
According to British Waterways, 200,000 people visit the aqueduct annually.
Wrexham is working alongside Denbighshire and Shropshire councils to finalise the plan.
The heritage site status was awarded on a number of conditions, which included the implementation of a "thorough tourism development plan" as part of an overall management plan.
'Made a difference'
Peter Furniss, a director of Llangollen Wharf which runs horse-drawn and motorised cruises on the canal and aqueduct, said the award of heritage site status was already having a positive impact on business.
"The fact that the aqueduct has got world heritage status has already made a difference," he said.
"Some people have travelled long distances to come here. Last year we had a young man from India who had come to Britain purely to visit its heritage sites."
Though he said he was not aware of the five-year plan in detail Mr Furniss gave it a cautious thumbs-up.
"Any plan which promotes the area and sells what it has to offer in terms of tourist attractions should be welcome," he said.