Wrexham FC receives loan offer to help pay tax debt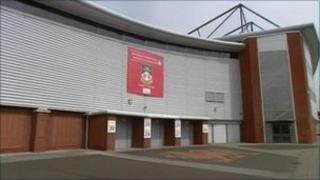 Wrexham FC has received a "substantial" loan offer to help it pay a £200,000 tax bill.
The club is preparing to release details of a fund-raising scheme which it hopes will encourage fans to help pay off its debts.
Meanwhile, a loan offer has been made by Conservative assembly candidate Dr John Marek, who is also attempting to put together a rescue package.
Her Majesty's Revenue and Customs (HMRC) wants the debt paid by 11 May.
The club faces a winding-up order if the bill is not paid.
In a statement, Wrexham FC said: "Contrary to press reports, the outstanding HMRC debt has yet to be paid in full to avoid the winding up petition.
"John Marek, who has kindly offered to loan us a substantial amount, is attempting to put together a rescue package with others.
"HMRC have made it very clear that the only way they will withdraw the petition is if full payment is made. They will not accept part payments."
The club said it is working on a plan for Easter Monday's game against Tamworth, which it hopes fans will "buy into, that could raise a considerable amount towards paying the club's debts".
It said it was expecting its bank account to be frozen, making it "very difficult to operate," with wages due to be paid at the end of April and VAT in May.
Dr Marek,the Conservative assembly candidate for Wrexham, said: "It's public knowledge that I have made an interest-free loan offer.
"It's my view that we will in fact not have to go to court on 11 May and the problem will be sorted by then."
It is understood the club still needs to find about £50,000 to cover the debt of nearly £200,000.
Wrexham Supporters' Trust (WST) said the club had approached it for a £50,000 loan.
'Farcical situation'
However, spokesman Terry Heath said WST members decided unanimously against the request at a meeting on Monday.
He said no guarantees on the loan had been offered, adding: "The overall consensus was that putting the money into a black hole for nothing, with no guarantees, is not the ideal way of doing things."
He said WST was still considering ways to help the club.
Plaid Cymru candidate Marc Jones said the "farcical situation" of the club not paying its debt demonstrated the need for stability at Wrexham FC.
He added: "For the avoidance of doubt, that can only be achieved by community ownership and the full involvement of the Wrexham Supporters' Trust."
On Dr Marek's loan offer, Bill Brereton, Welsh Liberal Democrat candidate, said: "Wrexham FC's troubles are not new so why wait until now to offer support?
"With elections just two weeks away, this timing certainly raises concerns."
Labour candidate Lesley Griffiths said: "It's obviously a very worrying time for everyone involved with Wrexham Football Club.
"A long-term solution is obviously required as a matter of urgency."