Wrexham Supporters' Trust meet over club cash crisis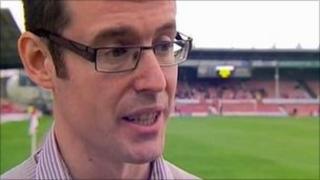 Fans of Wrexham FC are to meet to discuss ways to help the club as it faces a £200,000 winding-up order.
Her Majesty's Revenue and Customs (HMRC) is trying to recoup a tax bill.
Wrexham Supporters' Trust (WST) is holding a special general meeting on Monday to consider ways to "act quickly" to support the club.
In a statement, the club said it was still trying to raise funds to pay back the HMRC debt.
WST chair Richard Owen said the meeting at Wrexham Lager Club at 1930 BST was called because members "believe we may need to act more quickly".
The trust is considering putting in its own bid to buy the club and wants to change its constitution enabling it to call members' meetings within a week rather than 14 days so they can ratify decisions.
Some members held a "constructive" meeting with one of the club's owners, Geoff Moss, before Saturday's 2-0 home win against Kettering, which puts the team in a play-off position with one match to go.
Another potential bidder, businesswoman Stephanie Booth, has called on the supporters' trust to cover the club's tax bill with part of the £378,000 it has already raised.
But some fans are unhappy, saying it should be up to the current owners to foot the bill.
Mr Owen said: "Everything we do has to be in the best long term interests of Wrexham Football Club and will be put to members for approval."
In its statement Wrexham FC explained that HMRC had made it clear that the only way it would withdraw the (winding up) petition was if the debt was paid in full, not in parts.
The statement said: "The club is exploring every avenue to raise the remaining amount, and is putting together an initiative for the Tamworth game that we hope supporters will buy into that could raise a considerable amount towards paying the club's debts.
"A big gate is needed and we require all fans to help us, whether they be 'pay on the day' or season ticket holders."
On Saturday, Wrexham manager Dean Saunders described the effect on his players of the club's latest financial woes.
Saunders said he had received phone calls on Friday from players worried about being paid.
He said some of his squad were getting married and "worrying if they can pay the bill" and others "having babies and wondering if they can pay the bills for them".