Wrexham: Dean Saunders on player worries over cash woes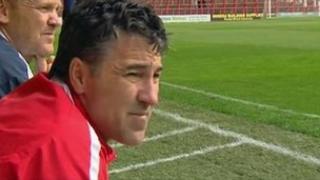 Wrexham manager Dean Saunders has given a vivid account of the effect on his players of the club's financial woes.
Saunders said players called him "worried to death" after the club were served with a winding-up order over a £200,000 tax bill.
The Blue Square Bet Premier team seemed to be hit weekly by "a bombshell" and "a protest at the ground," he said.
A statement on the club website said the owners were "doing everything" to "secure the future of the club".
His comments came after Saturday's 2-0 home win against Kettering which put them in a play-off position.
"The club has been starved of success for years," he said.
"I'm convinced that if we can get out of this league we can get out of the next league, providing things are right behind the scenes.
"At the moment they're obviously not."
On hearing of the winding-up order on Friday, the former Wales international said he felt disappointed, especially for fans and the town.
He said: "Every Friday we seem to have a bombshell hit us. We have to respond every Saturday afternoon.
"And every week there seems to be a protest at the ground about something."
He said he had received phone calls on Friday from "worried" players and before Saturday's game it was his job to "convince the players they are going to get paid".
Saunders said some of his squad were getting married and "worrying if they can pay the bill" and others "having babies and wondering if they can pay the bills for them".
"It's not just the players, it's the families and their wives," he said.
Her Majesty's Revenue and Customs (HMRC) issued the winding-up order.
Saunders said he hoped it could be resolved before a hearing set for May.
A statement on the club's website said they owed HMRC "just under £200,000".
'Due diligence'
The club, which remains for sale, said it needed gates of 4,000 to survive, but Saturday's attendance was 3,662.
Among potential bidders for the club are Wrexham FC Supporters' Trust (WST) and north east Wales hotelier and businesswoman Stephanie Booth.
She has said while she was weeks away from making an offer, in the short term, WST should use money it has raised to pay the tax bill.
But trust chairman Richard Owen said: "We can't just give money without proper due diligence and the approval of our members."
A statement on the club's website said: "That HMRC should take this action at all is a source of great disappointment and frustration, when offers to honour our commitment over a period to the revenue have been rejected out of hand.
"The club 'holds its hands up' in full acceptance that this situation has been allowed to escalate, and realises that football clubs in general understand that there now exists something of a zero tolerance relationship between them and HMRC."