Wrexham council to consult over street parking charges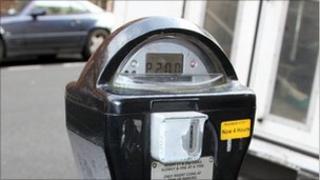 Wrexham councillors have decided to "formally and meaningfully consult" business owners and traders about plans to charge for on-street parking.
There are currently no charges, but the plans would introduce a 50p fee per half hour between 0900 and 1800 hours and a 50p flat rate charge after 1800 hours until midnight.
The scheme has been criticised by some traders, as well as local businesswoman Stephanie Booth.
No timescale has been given.
A report discussed on Tuesday claims "effective review" of parking was "critical" to improving services while ensuring Wrexham "remains a vibrant and economically prosperous place through this difficult and challenging financial climate".
Officials believe better parking management increases the turnover of spaces, which in turn improves consumer convenience.
The report said it also makes deliveries easier, and reduces congestion, accidents and pollution.
Areas identified as "high demand," which could be subject to charges, are:
Chester Street
Holt Street
Town Hill
Brook Street
St George's Crescent
Bodhyfryd
King Street
Egerton Street
Mount Street.
Proposed changes would apply between 0800 hours and 1800 hours, Monday to Saturday.
There are also proposals to extend council car park charging times - currently 0800 hours to 1700 hours - to 1800 hours, and to charge a 50p flat rate between 1800 hours and midnight.
Once the consultation is complete, the decision will be passed to the council's executive board.