Suspended sentence over asbestos at Scott's, Wrexham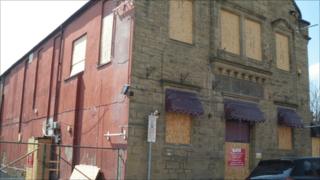 A property developer has received a suspended prison sentence after ordering the potentially unsafe removal of asbestos from a former nightclub in Wrexham.
Michael Murton, 35, admitted removing the asbestos from Scott's nightclub.
Mold Crown Court heard those who were exposed to it might have to wait up to 30 years to know if their health had been affected.
The Health and Safety Executive (HSE) called it a "serious incident."
Judge Philip Hughes said it was clear high levels of asbestos contamination were present inside and outside the building.
Contaminated material was dry-scraped by the defendant and his workers creating large quantities of dust.
"The toxic material was simply disposed of down a shute out of an upstairs window to an unsealed skip on the ground below," he said.
"The risk to health was extended to the street outside and therefore to members of the public."
The judge accepted Murton did not know the asbestos was there and it was not a case of cutting corners financially.
Clean-up operation
"This was born out of ignorance rather than a cynical attempt to save money," he added.
Murton, who admitted removing the materials without necessary safeguards to prevent asbestos escaping, received a 12-month prison sentence, suspended for 18 months, and was ordered to pay £10,000 in costs.
The HSE, which brought the prosecution, was alerted when fire proofing was removed from the building in February 2010.
Specialists were drafted in to seal the site and make it safe in a clean-up operation costing more than £200,000.
The removal of all the asbestos will cost an additional £70,000.
The fibre levels were found to be up to 1,000 fibres per millilitre - about 10,000 times the control limit.
One of the specialist contractors later told how it was "one of the worst jobs" of asbestos contamination he had seen.
'Easily avoided'
The court heard seven people worked on the site, including Murton, who bought it in January 2010 and planned to refurbish it as three bars.
About 10 beams had been scraped by hand which was thrown down a rubbish shute to a skip outside.
One worker told how dust was created and the wind blew it outside.
It was so thick at times that he could not see his hand in front of him, he said.
Murton admitted 12 offences under the Hazardous Waste Regulations, the Environmental Protection Act and the Asbestos Regulations.
After sentencing, HSE Inspector, Debbie John, said: "This is a serious incident and one that could have easily been avoided.