Llangollen to Barmouth cycle route takes first step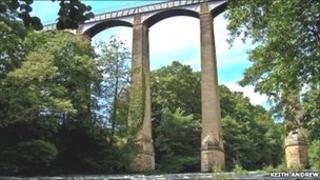 A plan for a continuous route for cyclists across north Wales between Pontcysyllte in Denbighshire and Barmouth on the Gwynedd coast has taken its first step.
Denbighshire County Council has started work on an 8km (4.9m) section of canal towpath in the Llangollen area.
The towpath needs resurfacing for it to be made suitable as a cycle route.
The path will have an urban section within Llangollen and may also run alongside the Llangollen railway line.
It will also take in quiet country lanes, and eventually the route will be signposted with cycle way signs giving distances to destinations.
The route will pass through many other Denbighshire towns and villages such as Corwen, Carrog and Cynwyd.
'Traffic-free'
The council has been working closely with Sustrans, the sustainable transport organisation.
Glyn Evans from Sustrans said: "What we want is lots of high-quality traffic-free community paths. People prefer to walk and cycle away from traffic."
He said that as well as offering health benefits to local communities the path should also bring more tourists to the area.
"Each area gets its local facility in the community and then these all link together to form a longer path which brings a different tourist market to the area," Mr Evans said.
"Walkers and cyclists tend to spend more locally because they don't want to carry things on them.
"Activity tourism is growing," he added.
Funding for the project has come from the regional transport plan grant provided by the Welsh Assembly Government.