Corwen Pavilion demolition due to start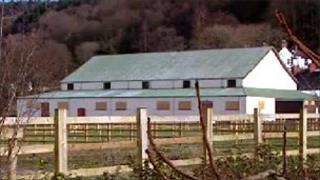 The demolition of Corwen Pavilion is due to start amid calls for residents to form a group to build a new community centre in the town.
Denbighshire council says the 99-year-old building - which closed due to safety concerns - is beyond repair.
It previously claimed the pavilion - which hosted community events - would cost between £2-3m to replace.
The council wants to transfer site ownership to residents and help them to find funds for a new building.
Jamie Groves, Denbighshire's head of leisure, libraries and community development, said a working group has spent the last 12 months looking at "issues related to building design, cost and future funding".
"During the meetings with Corwen pavilion working group, the council has made it very clear that it does not have the funds to build a new pavilion but is fully committed to transferring the title of this land over to the community who will be required to set up a charitable trust."
He said Denbighshire council and the Denbighshire Voluntary Services Council will assist the working group in establishing a board of trustees.
Any transfer of land will be subject to meeting the original purpose of promoting Welsh culture, he said.
Corwen councillor Huw Jones said: "These are positive steps and there is a lot of hard work ahead of us but with the commitment of officers and support of the community we can work together to ensure we provide a facility that will meet the needs and aspirations of all. "
The pavilion was temporarily closed last March after asbestos was discovered and the closure was made permanent the following month.
The demolition is expected to start over the next few days.