Norovirus: Chirk and Mold hospitals also hit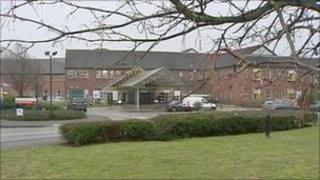 Two community hospitals have been affected by the norovirus outbreak that has left Wrexham Maelor Hospital closed to almost all visitors.
Three wards at Chirk and Mold Community Hospitals and six at Wrexham Maelor are hit by the vomiting and diarrhoea bug.
Betsi Cadwaladr University Health Board said 66 patients and 10 staff had gone down with the bug.
Maternity and paediatric wards have some visitor-ban exceptions as do terminally or critically-ill patients.
Officials are to carry out a daily review of the situation but say the visitor ban is necessary to reduce the spread of the virus.
Nursing and patient services director Jill Galvani said: "One thing that we can do is to close the hospital to visitors, so that we stop that spread of the disease, and make sure that the outbreak is eased more quickly.
"We've managed to make sure that patients are still being admitted and discharged and having their operations but we're just keeping an eye on that day by day."
She added that the hospital was normally able to resolve a norovirus outbreak in about 48 hours but due to wards being affecting at different times, it was expected to take four to five days to ensure the virus was "out of the system".
The main symptoms of norovirus infection are sudden nausea, stomach ache followed by severe "projectile" vomiting and or diarrhoea.
Symptoms usually begin between 12 and 48 hours after a person becomes infected, said officials.