Buckley fire death: 'no working alarm' say firefighters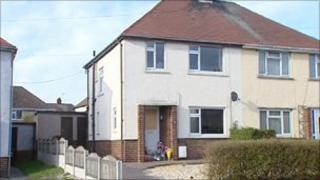 The house in Buckley, Flintshire, in which a 31-year-old woman died in a fire had no working smoke alarm, say North Wales Fire and Rescue Service.
A two-year-old boy was rescued from the blaze in Frazer Drive on Saturday.
Neighbours raised the alarm and police who attended at 0250 GMT found the windows black and hot.
"This is a tragic incident and our hearts go out to the family," said Assistant Chief Fire Officer Colin Hanks.
He added: "It has emerged that there was no working smoke alarm at this property and I would therefore urge everyone to ensure they fit smoke alarms in their homes - they really can mean the different between life and death.
"The early warning signal provided by a smoke alarm can provide enough time to call for help and to make your way safely out of a property."
Firefighters from Mold and Buckley attended and discovered the woman's body while the young boy was rescued.
Police said that there were no suspicious circumstances.
Mr Hanks said firefighters would be in the Buckley area offering free home fire safety checks in the coming week.