£4m Rhyl cycle bridge faces final planning hurdle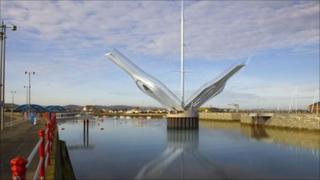 Planners in Denbighshire are deciding whether a new £4.3m foot and cycle path across Rhyl's harbour can go ahead.
The bridge would provide the final link in 15 miles (24km) of traffic-free cycling across Conwy and Denbighshire.
Boat users say the new bridge could leave them stranded outside the harbour if its raising mechanisms fail.
But officials say they have secured funding for a new safe mooring on the approach to the harbour, in the event the new bridge cannot be opened.
Anthony Parry, a member of the harbour's charter boat skippers, said the town's boat users were resigned to the new bridge being built, despite their opposition.
"Once the bridge is up, if the bridge fails to open we are not going to be able to move either way," he said.
"We've got big concerns over safety and safe navigation in the river."
He said the view of the harbour community was that the new bridge was "a stupid idea".
But Mr Parry added: "If they come up with a safe waiting area and a new quay wall and whatever else, it will make the whole harbour better."
Planning officials say they accept the case for a safe mooring haven on the harbour approach, and funding has been secured to build the new facility.
Carol Evans, who runs Denbighshire's Rhyl Going Forward regeneration programme, said the development was a "win-win solution" for the seaside resort.
"Rhyl will have an iconic structure that will be quite unusual and unique," she said.
"Quite honestly we have addressed the concerns of the harbour users and in that case, I can only see it as something very positive for Rhyl."