30 cows shot dead on 'humane' grounds at farm in Chirk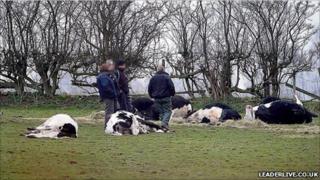 The owner of about 30 cattle which escaped and were later slaughtered over fears for their welfare could face court action, says Wrexham council.
Police attended when the cows escaped on Friday in Chirk and were reported to be on a road and in people's gardens.
The animals were shot at a farm the following day, said the council.
Council spokesman Andy Lewis said the operation took place following a risk assessment to prevent further suffering and distress to the animals.
There have been newspaper reports that the cows were shot in front of onlookers, including children.
Mr Lewis, the council's chief housing and public protection officer, added: "The public were excluded from the area.
"The decision on the location used to carry out the destruction of the bovines and the timing of the cull was agreed following risk assessment and in the interest of public safety.
"The incident may result in court action being taken against the owner of the animals and no further comment can be made at this time."
Mr Lewis said the council's decision to destroy the animals was taken after discussions between North Wales Police and the animal health and welfare authority.
A county councillor said the cows had escaped previously and there were concerns about their welfare.
North Wales Police confirmed they were called in the early hours of Friday after cows were reported loose on the B5070 road, and trampling through people's gardens.
A force spokesman said they were not involved in the animals' slaughter.
Ian Roberts, a county councillor from Chirk, said the cows had been escaping regularly over the last seven to 10 days.
He said: "They had been pushing through people's gardens. There have been old age pensioners trying to get them out of their gardens at six o'clock in the morning.
"They were getting out wherever they could."
Mr Roberts said some local people had expressed concerns about the way the animals were slaughtered, and the fact some people were able to witness it.
However, he said he believed it had been necessary to destroy the cows "for the protection of the public and the welfare of the animals".
He added: "They hadn't been de-horned. Somebody trying to get them out of their garden in the pitch black could easily have been stabbed."