Wrexham on new Arriva Trains Wales north-south link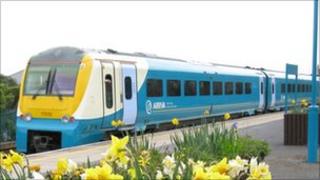 A north-south rail service that takes in Wrexham will begin in May, the assembly government has said.
A second Arriva Trains Wales "express" service will run once a day between Holyhead and Cardiff and back.
The service will stop at Wrexham in both directions, unlike the first service started in December 2008.
But Wrexham council leader Aled Roberts said that, while welcome, the new service will mean the loss of a direct service to Birmingham from the area.
The new service, costing £620,000 to run until December when a different locomotive will be used, will run Monday to Friday and take four hours and 17 minutes.
The morning train is timetabled to depart Holyhead at 0751 GMT, calling at Bangor, Llandudno Junction, Colwyn Bay, Rhyl, Chester, Wrexham, Ruabon, Chirk, Gobowen, Shrewsbury and Newport and arrive at Cardiff at 1208 GMT.
The evening train is timetabled to leave Cardiff at 1818 GMT, stopping at Newport, Abergavenny, Hereford, Shrewsbury, Gobowen, Ruabon, Wrexham, Chester, Rhyl, Colwyn Bay, Llandudno Junction, and Bangor to arrive at Holyhead at 2234 GMT.
However, the single line section of track between Wrexham and Chester has led to the 0715 GMT Holyhead to Birmingham International service being re-routed via Crewe.
First-class service
Deputy First Minister, Ieuan Wyn Jones, who also holds the assembly government's transport portfolio, said this meant the direct service to Birmingham would no longer call at Ruabon, Chirk and Gobowen.
He said: "The new express service will call at these stations in order to avoid what would otherwise be a two-hour gap in the mornings.
"Passengers for Birmingham joining from these stations will be able to complete their journey by changing and connecting into the 0715 Holyhead to Birmingham service at Shrewsbury."
Wrexham council leader Mr Roberts said: "Whilst this is very good news we must also bear in mind that as well as a speedy service south to Cardiff, many of our residents also rely on the direct services through to Birmingham particularly as we have now lost our London service.
"Losing a direct Birmingham service is not an option, we need to build on what we have, not witness them taken away.
"We should look at supplementing our services not just re-routing them."
From December, the new service will use a locomotive and carriages similar to those used on the first north-south service, Y Gerallt Gymro, including a first-class carriage and dining facilities.