Wrexham council seeks city status despite public views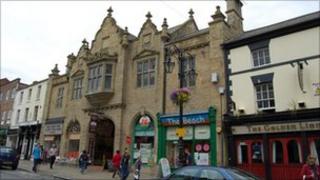 Councillors in Wrexham have voted to seek city status despite opposition from local residents.
Almost 1,500 people responded to public consultation with a two-to-one majority against the idea.
But the executive board has agreed to submit an application in a UK-wide competition to mark the Queen's Diamond Jubilee in 2012.
Councillor Bob Dutton said Wrexham was a big authority that needed "to stand on the city stage".
"It's time we were recognised as an outstanding example of a well-run town and county," he said.
The board voted by a majority of six to two to press ahead with an application for city status, with one abstention.
Councillor Alun Jenkins commented that the consultation had been "disappointing" but he said he did not feel it represented the feeling more generally in the area.
The low level of participation in the consultation, around 1% of the town's population, was criticised by Councillor Mark Prichard.
However ,he abstained from the vote saying he could not go against the results of the survey.
Wrexham's last bid for city status was turned down in 2002 when Newport was granted the accolade to mark the Queen's Golden Jubilee.
The fresh application has to be submitted by June this year and a new city will be formed in 2012.