Denbighshire trees affected by sudden oak death felled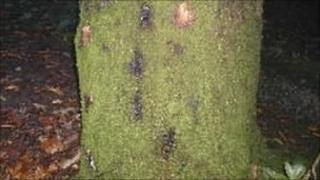 Work is under way to fell trees in a Denbighshire forest after an outbreak of a fatal disease.
Forestry Commission Wales (FCW) said some Japanese larch trees were found to be affected by Phytophthora ramorum (P. ramorum) - or "sudden death oak" - in Clocaenog Forest, near Denbigh.
It said a small number were being felled to prevent the disease's spread.
In August 2010, Denbighshire became the first county in Wales to have the disease in privately-owned woodland.
Then, the FCW also issued a notice to fell the affected trees.
The disease is a fungus-like pathogen and was first found on Japanese larch trees in Wales in June 2010 in south Wales.
FCW said public access would be restricted while felling takes place in Clocaenog.
Spokesman Steve Cresswel said: "Phytophthora ramorum is a fatal tree disease and, by felling infected trees here, we hope to limit the production of the spores that spread the infection and therefore minimise the impact of the outbreak."