John Gizzi capture 'shows no gangster untouchable'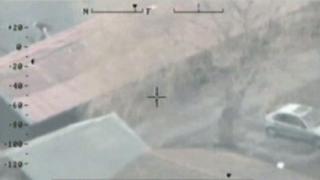 The jailing of north Wales gangster John Gizzi shows that criminals like him are "not untouchable," says the officer who helped put him behind bars.
North Wales Police Det Insp Gerwyn Lloyd led the operation to trap the man who once boasted he "ran Rhyl".
Gizzi, 39, from St George, Conwy, faces a further police financial inquiry after last week pleading guilty to conspiring to bring cocaine into Wales.
How police caught him and his gang is on BBC Wales' Week In Week Out.
Gizzi was jailed for 11 years last Friday, and nine others from Towyn, Rhyl, Kinmel Bay and Liverpool were imprisoned for between four-and-a-half and nine years.
Det Insp Lloyd tells the programme: "I've got news for them, they're not untouchable, we can touch them and we will catch them."
Gizzi's conviction at Caernarfon Crown Court was the culmination of a 12-month police investigation to gather intelligence, surveillance and forensic evidence.
Police believed he was a threat to Rhyl and communities across the region.
Gizzi was released from prison in March 2009 after serving just over three years of a five-and-a-half year sentence for beating up two homeless men with wooden staves.
A millionaire criminal who had portrayed himself as a legitimate builder and property tycoon, police knew it was almost inevitable he would return to crime.
But allowing one of the most high profile criminals they have dealt with to continue in organised crime was also regarded by some as posing a threat to the force's credibility.
So, following intelligence from the local community, Operation Thunder was launched in the summer of 2009.
It led to officers filming a brief car meeting between Gizzi and accomplice Neil Sutemire in a rural location in December 2009.
Following the meeting - which lasted just seconds - officers stopped the driver Gizzi had met.
Sutemire had £29,000 in a carrier bag and was arrested under the Proceeds of Crime Act.
His home address in Merseyside was searched and two packages of heroin were found in a kitchen drawer, with a combined street value of £47,500.
The surveillance operation continued, and in March 2010, police helicopter footage showed suspicious activity at a rented industrial unit in Kinmel Bay.
People were spotted on the unit's roof, apparently installing a power supply.
'Bulked up'
At this point, police were unsure what was going on, but suspected the premises was being used as a cocaine processing plant, where, among other things, the drug would be "bulked up" before being sold on.
Later, arrests were made and the unit was found to contain a cannabis factory with "several hundred plants".
A cocaine press was also found, and a caravan alongside the unit contained ingredients used in the mixing process.
On another occasion, police intercepted a taxi driver who had been sent to Liverpool to collect drugs.
They found almost a kilo of cocaine - of 82% purity - with an estimated street value of £50-£55,000.
However, with the average street purity at about 20%, it was estimated the street value would increase to about £162,000 by the time it had been processed (equivalent to 4kg of drugs).
Police decided to arrest Gizzi, but he had been tipped off and fled. He was found days later in Lancashire.
Police believe he was trying to leave the country and knew "the game was up".
"There is no doubt Gizzi was the head of this organised crime group," one senior detective said.
One other offender is still wanted in connection with the case.
The gang's drugs were destined for distribution across north Wales.
According to North Wales Police, Gizzi still owes money under the Proceeds of Crime Act following his last convictions.
Police are also seeking a Serious Crime Prevention Order on Gizzi and two others.
This could give police powers to impose conditions which might include not associating with known others, restricting vehicles which can be used, and placing restrictions on the number of mobile devices an individual can use.
Week In Week Out is on BBC One Wales at 2235 GMT on Tuesday 8 March.