Action to eliminate Flintshire broadband 'notspots'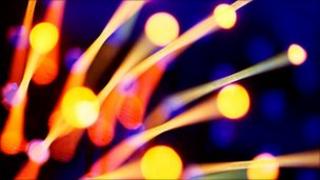 A campaign has been launched to end broadband "notspots" in Flintshire by the end of the year.
The county council leads the project, co-ordinating between third party suppliers, residents and businesses.
The authority said some rural communities are not receiving a good service compared with towns.
And businesses claim a slow internet connection can cost them money, with one firm saying they lost £70,000.
The Flintshire Rural Broadband event is being held at Northop Hall Country House Hotel, near Mold.
Owner Tony Holland, who is helping host the event, explained the £70,000 contract was lost when a former client stopped using the hotel for its annual five-day conferences after overseas visitors had trouble connecting to the internet.
The problem - which occurred when a large number of guests tried to connect to the internet at the same time - has since been eradicated as the hotel has started using the services of a third party supplier, AB Internet.
'Determined'
The company has also started providing services to villagers in two other former "notspots" under projects set up by Treuddyn Community Broadband and Graigfechan Broadband Campaign Group.
Flintshire council says other areas where it hopes to improve broadband connections include communities around Caerwys, Talacre as well as parts of Deeside Industrial Estate.
Its scheme is to act as an advisor and contact, bringing communities, residents and businesses together with internet providers to offer a solution to connection problems.
A £2m support scheme was launched last year by the Welsh assembly government to help people in rural "notspots", offering £1,000 grants per individual application.
Deputy First Minister Ieuan Wyn Jones, who launched the broadband improvement scheme last July, said at the time: "The Welsh Assembly Government is determined to find ways of opening up access for the relatively few areas in Wales that remain unable to benefit from broadband services."
Matt Wright, the council's executive member for economic development, set up Wednesday's event for Flintshire residents and businesses as well as internet providers.
"This is a very important issue for Flintshire," he said.
"We aim to be the first county in Wales to be fully broadband enabled, five years before the Welsh assembly target of 2016."