Rising uni fees 'may mean more apprentices in Wales'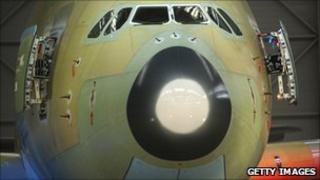 More young people in Wales may choose apprenticeships over formal education as tuition fees at English universities rise, it is suggested.
Airbus, one of Wales' biggest employers, is holding an event at its Flintshire plant offering information about its training scheme.
Gareth Griffiths, a business lecturer, said rising costs made an alternative to higher education more attractive.
Last year 2,000 young people attended, but more older applicants are expected.
The event at the Airbus Broughton factory is open to school-leavers as well as unemployed adults or those seeking to retrain.
The apprenticeships on offer will enable participants to earn money while learning how to be aerospace engineers, mechanical fitters or supply chain operatives on the job and are run in conjunction with neighbouring Deeside College.
Last year the firm offered 70 apprenticeships but the figure available this year has not yet been confirmed.
Dr Griffiths, of Bangor University, predicted that the event would be well attended at a time when many would-be university students were rethinking their options.
He said: "The rising costs of higher education and living are making alternatives to university look more attractive.
"Having on the job training while you are being paid and getting work experience reduces the level of debt and could be a more valid route for many.
"If somebody is going to do well within higher education anyway, that will probably be the best path for them and will pay dividends later in life, but for some people, getting vocational training over a low-grade degree in something non-transferrable will be a better option, especially in this current economic climate."
Cheap labour
But Dr Griffiths, who is also director of post-graduate programmes at Bangor, warned applicants to be aware of what they were signing up to.
He said: "The bigger organisations like Airbus tend to have formal training schemes in place but some smaller organisations do see apprenticeships as a chance to get cheap labour, paying people the minimum, getting rid of them at a moment's notice and not training them at all."
Saturday's information event will see representatives from Deeside and Yale colleges, Glyndŵr University, Connexions and Careers Wales on hand to offer advice and guidance on career paths for future engineers.
Mark Stewart, human resources director for Airbus, said that by 11am, they had already seen 2,500 hopefuls through the doors.
He said: "We are sowing the seeds for tomorrow by giving people the opportunity to train with us and learn top-end skills.
"This generation of apprentices will hopefully still be with us to work on the next generation of aircraft."
Mandy Helsby, adult guidance careers advisor for Careers Wales, said it provided an opportunity not just for school-leavers but older people facing redundancy who were open to pursuing a new career.
"I think they are expecting more people than last year as it's more competitive than ever out there.
"It is a good opportunity for people to be pro-active and improve their job prospects, either by asking for work experience or applying to the scheme and we can give people more information about other apprenticeships out there."
David Jones is principal and chief executive of Deeside College, where successful applicants will study for a year before commencing their on the job training with Airbus.
"It is encouraging to see companies such as Airbus offering opportunities to support the economy of north east Wales, and giving people the chance to be part of one of the world's most prestigious and innovative companies."
"Taking part in this event gives us a chance to highlight the broad range of courses on offer at Yale College," added Geoff Spencer, assistant director for engineering at the college,
"The tours will certainly provide plenty of inspiration for prospective engineering students and we are keen to support them on their learning journey."
The event takes place between 1000 - 1430 GMT at the Hawarden Industrial Park in Broughton.
Last week Airbus announced it is to "create" 770 jobs at the Broughton plant by taking on agency workers who are on permanent contracts.
It follows record orders for the company, including 180 A320 planes, the wings for which are made at Broughton.