Glan Clwyd hospital bed numbers cut is agreed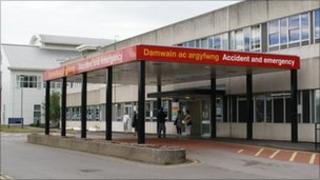 A plan to reduce bed numbers at one of north Wales' main hospitals as part of a modernisation scheme has been approved.
Betsi Cadwaladr health board has given the go-ahead to the redevelopment of Ysbyty Glan Clwyd in Denbighshire.
The modernisation will follow a £77m scheme to remove asbestos from ceilings above operating theatres and corridors.
The work will take an estimated eight years to complete and will start once ministers give their final approval.
At a meeting on Thursday, the health board agreed "significant work" was needed to remove asbestos from the building.
The health board confirmed that it would take advantage of the opportunity to also carry out widespread improvements to the hospital.
A report discussed at the meeting noted that the modernisation would involve a "reduced reliance" on hospital beds as care and rehabilitation is provided in patients' homes or in the community via other health providers.
Neil Bradshaw, the health board's executive director of planning, said: "The policy of the NHS across the UK is to move more care into the community and to reduce the reliance upon beds.
"This is because of advances in the way people can be treated and cared for safely closer to home.
"Over the coming years, we expect to see less beds in all our hospitals as new services are established in the community."
Mr Bradshaw said the reduction in hospital beds would apply to Ysbyty Gwynedd and Wrexham Maelor as well as Ysbyty Glan Clwyd.
No decision has been taken on how many beds will be removed.
Michael Williams, health board chairman, said: "The way health care is delivered has changed massively in the 30 to 40 years since Ysbyty Glan Clwyd was first designed and built.
'Lifetime opportunity'
"In particular, new technologies allow more care than ever before to be provided in the community and in patients' own homes, leaving the major hospitals to focus on providing more specialist and urgent emergency care.
"We now have a once-in-a-lifetime opportunity to carry out modernisation of wards and departments to make sure they will meet the needs of the health service of the future."
Mr Williams said work would start on site later this year.
The Health and Safety Executive ordered urgent works to remove the asbestos after a leak above Wards 11 and 12 in January last year, which meant there was a risk of asbestos falling onto the floor below.
And in a separate incident there was damage to the tiles above the main theatres' corridor in November 2010.
The board has said the asbestos posed no "immediate risk" to patients' safety.
Asbestos is a problem when fibres become airborne and are inhaled, and can lead to life-threatening illness.