Prestatyn Gathering marks The Alarm's 30th anniversary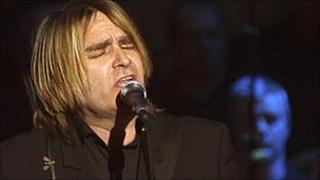 Rock fans from around the world are descending on north Wales for a weekend celebrating 80s band The Alarm.
The Gathering, an annual reunion in Prestatyn, Denbighshire, where the band played their first gig, this year marks the 30th anniversary.
Also on the bill for the Friday to Sunday event at Pontins are Big Country and former Sex Pistol Glen Matlock's band, The Philistines.
"This year's Gathering will be the biggest," frontman Mike Peters said.
About 1,500 fans are expected at the sold out event. Killing For Company, whose founder and drummer Stuart Cable died last year, are also on the bill.
"It's such a great social event for Alarm fans all over the world," said Peters, 51.
"But it's not just for them, it's great for the band too, playing together and having a great time with the fans.
"Instead of us going out on the road, we're the ones staying at home and they are the ones travelling from Japan, America, Australia and all over to be at Prestatyn.
"I was born here and The Alarm was born here.
"The band played its first gig 30 years ago just 100 yards away from where we'll be playing this weekend and that's a special thing for us and the band's fans."
In their heyday The Alarm had a number 17 hit with its single Sixty Eight Guns and toured America with U2.
The band played a farewell tour in 1991 but later reformed and have already held 18 "Gatherings".
"We have a great community around the band that has survived all the changes of the past 30 years," added Peters, who in December 2005 was diagnosed with chronic lymphocytic leukaemia.
"It's survived illness, death, changes in fashion. It's communal experience and that is what the band is all about."
This year, Peters revealed, he will step into the shoes of his friend Stuart Adamson by singing onstage with fellow 80s band Big Country. Adamson committed suicide in 2001, aged 43, after battling with depression.
"I've been drafted in by the Big Country," he said. "I was actually climbing Snowdon when the band called and asked me and I said yes.
"Next year I will have known them for 30 years and we have a shared history. There's a unity there between our fans."