'Flexsys' workers told Cefn Mawr jobs safe until 2015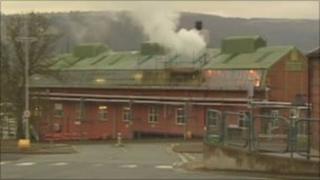 A total of 50 jobs will be safeguarded until 2015 at a Wrexham chemicals works despite the site being cleared for future development.
The two-year stay of execution comes as Solutia UK, formerly Flexsys, was due close the Cefn Mawr plant in 2013.
But bosses have told staff a deal has been struck enabling operations to continue further.
More than 150 jobs were lost two years ago when Flexsys ceased production at Ruabon Works.
The site has since been producing a chemical solution for cleaning silicon chips.
Solutia director and plant manager Steve Westhead said: "This is good news which will help to keep jobs safe for a couple of years longer.
"It's testament to the skills and dedication of the workforce at Cefn Mawr."
Solutia UK said it has agreed a contract extension with DuPont Air Products NanoMaterials Ltd.
The company said the announcement in "no way changes" its "ultimate intention to close the site", and to investigate alternative uses.
Plans are already being discussed to redevelop the land.
Locals are hoping a new marina could be included, linking to Llangollen Canal.
The company said the demolition of all operational facilities will be completed by mid 2011.