300 new jobs for Sharp's solar panel factory at Wrexham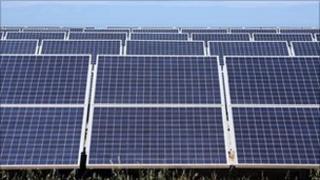 A total of 300 new jobs are being created at Sharp's Wrexham factory which is doubling solar panel production.
A £30m expansion was announced last summer at the company's site in Llay. Now, the scale of the jobs boost has just been confirmed.
Chris Huhne, Energy and Climate Change Secretary, described the news as "excellent".
Sharp said the expansion increases the workforce to 1,100.
The company said the investment will almost double its production capacity at the site, with an additional 3,000 panels being made every day.
As part of the development plans, a new training academy is being opened, training between 25 and 50 solar panel installers per month.
Andrew Lee, head of international sales, said: "This job creation proves that there is an appetite for solar technology in the UK and that this sector has huge growth potential, bucking the trend in the wider economy."
Sharp said feed-in tariffs, the scheme which pays people for energy generated from small-scale renewables, had given a "shot in the arm" to the solar industry.
Mr Huhne said: "This is excellent news for the solar industry and for Sharp, which shows that green growth is a vital part of our economic recovery.
"Since feed in tariffs began, the scheme has stimulated a market in solar panels which has seen around 19,000 installed to date."
Welsh Secretary Cheryl Gillan said: "The establishment of the on-site training academy is another example of how private sector employers such as Sharp are crucial in creating new jobs and investing in providing skills for the local workforce.
"Last week I saw how Toyota and Airbus were working in partnership with Deeside College to produce a quality, skilled workforce for Wales.
"This tangible example of growth in the private sector is what Wales needs for future economic prosperity."
Deputy First Minister Ieuan Wyn Jones said: "I'm delighted that such an important employer has chosen to make this commitment in Wales, as these are real, green jobs in one of the sectors we are working hard to develop.
"Our new economic policy focuses on exactly this kind of advanced manufacturing to stimulate economic growth and encourage innovation and enterprise."