Home-Start sees family referrals rise in Wales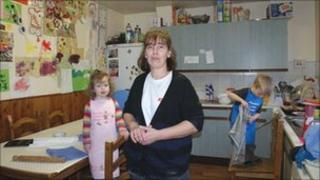 Support charity Home-Start says the number of families being referred to its help centres across Wales has increased since the recession.
The charity says families come to them needing "emotional support" to cope with problems caused by redundancies as well as other issues.
In Wales, there are currently 19 Home-Start groups supporting 1,736 families and 3,559 children.
In Flintshire demand is up by 50%, and figures are similar in Wrexham.
Sara Vaughan, director of Home-Start in Wales, said help group volunteers often found families were "weighed down by money worries and do not know where to turn for help".
The group trains its members to help with financial as well as welfare advice, and a quarter of referrals are from families themselves, with others coming from social services, GPs, health visitors and midwives.
Mother-of-six Karen Shortridge, 42, from Rhydymwyn, near Mold, Flintshire, has been using the charity for three years, and her youngest children, twins Harry and Sam, four, and Sophie, three, have come to know their Home-Start volunteer as Aunty Pat.
'Reward'
"After I had the twins and found out I was pregnant, it was a little bit overwhelming. I couldn't do things with them by myself like take them shopping and things like that.
"So Pat came as extra eyes, but now she's my friend."
Volunteer Pat said: "You feel as though you are helping, giving something back.
"You've got the reward of the time you spend with the children beause there is never a dull moment - they're an extended family really."
Ann Woods, senior organiser for Home-Start in Flintshire, said: "We are certainly seeing that the volunteers in the families' homes on a weekly basis are picking up support needs around financial, job changes, redundancies and just managing the household budget is something the volunteers can help families with."
She said the charity believed 40 volunteers were needed to deal with families going to the Flintshrie branch for help. Currently, 14 have been trained.
While volunteer applications have also gone up over the last year, managers said funding limitations meant they could not all be taken on to offer the support many families say they need.
Currently, a lot of the charity's funding comes from the assembly government's Cymorth grant but there is uncertainity where funding will come from after April next year.
However, the assembly government said although Cymorth will end in 2012, local authorities will continue to receive funding via a new Families First grant.
A spokesperson said: "The Welsh Assembly Government is providing significant funding for local authorities to support children, young people and their families.
"It is up to local authorities along with local children and young people's partnerships to prioritise and make decisions about what local projects they want to fund, within the context of related guidance."
Flintshire council said: "Transitional arrangements have been put in place with local authorities for 2011-12 to support the move from Cymorth funding and to support the introduction of Families First.
"This process will apply to all projects and services which are currently funded by Cymorth, this includes Flintshire Home-Start."