Wrexham light parade marks year of culture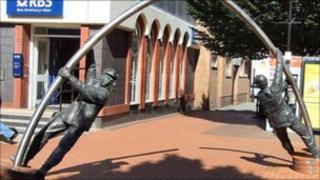 Wrexham's year of culture is launched later with a light parade and fireworks display in the town centre.
Families carrying more than 250 lanterns will march through the town from Eagles Meadow at 1730 GMT.
Fron Choir will give an open-air performance, greeting the parade at the Guildhall bandstand at Llwyn Isaf at 1800 GMT.
The county hopes to put on 300 events during 2011.
BBC Wales presenter Sian Lloyd from Wrexham is due to lead proceedings for the opening, with the county borough's mayor.
Councillor Jim Kelly said the events were being held to show that Wrexham had more to offer than just its historic football club.
"Wrexham has a steeped history of cultural heritage over many years and the year 2011 is an exciting year for Wrexham," he said.
"Yes, Wrexham has been famous with one of the oldest clubs in existence.
"But I'm saddened when I hear people say they are not aware of all the culture that is in Wrexham."
He referred to university status being attained by Glyndwr, world heritage status awarded to Llangollen Canal and Pontcysyllte Aqueduct and the national eisteddfod being held in the town in August.
"Really, there is a lot to celebrate," he said.
Wayne Jones, landlord of the Turf pub next to the Racecourse stadium, said: "When people talk about Wrexham, a lot of it is geared towards football. It's very much known as a football town.
"Football is the biggest thing that puts Wrexham on the map."
The Racecourse is officially recognised as the oldest football stadium in the world still hosting international games.
But Mr Jones also referred to the ancient rhyme, the Seven Wonder of Wales, four of which are based in the county, including the tower on St Giles, Wrexham's parish church.
Wrexham is hosting more than 300 cultural events this year.
A number of acts have already signed up to perform including The Three Welsh Tenors and the Welsh National Opera.