Councillors back new shopping centre in Prestatyn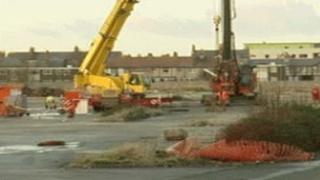 Denbighshire councillors have given the go-ahead to a new shopping centre in Prestatyn.
The decision to approve the development off the high street and Nant Hall Road follows years of delays for the project.
It will include a new Tesco supermarket and other shops, together with car parking and a filling station.
Part of the site includes land previously occupied by Kwik Save. Work is expected to start next spring.
Tesco submitted its original proposals a decade ago, but they were shelved when a developer took over an adjacent site.
Since then the two parties have been working together on a joint proposal, but the economic downturn put the scheme on hold until now.