Wrexham MP's concern at Remploy redundancy offer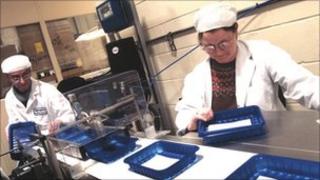 A Welsh MP has voiced concern about plans to offer voluntary redundancy to employees by Remploy, which specialises in helping disabled people find work.
Wrexham MP Ian Lucas has written to Work and Pensions Minister Maria Miller requesting "full information".
Remploy employs 540 factory staff and others across Wales, and it has blamed the economic climate for its decision.
Remploy said it had no plans to close factories, and guaranteed support to employees who chose to leave.
Remploy said it was continuing to expand its employment service branches, of which it has five in Wales, in Swansea, Cardiff, Newport, Wrexham and Bridgend.
Remploy said factories came under its "enterprise businesses".
It has nine factories in Wales, employing 540 staff in Wrexham, Swansea, Merthyr Tydfil, Aberdare, Abertillery, Neath, Bridgend, Porth and Croespenmaen.
In a statement it said its factory businesses "have suffered the effects of the current economic climate and do not have the level of business that we need and anticipated.
'Enormous distress'
"Many of our factories do not have enough work and are operating at less than 50% capacity."
It added: "The company is constantly examining ways of improving efficiency and has today announced that it plans to offer voluntary redundancy to employees working in our enterprise businesses and central services.
"This scheme is entirely voluntary and every employee will be able to choose if they want to apply for the severance package."
In a letter to Ms Miller, Mr Lucas wrote: "I know that my office will be receiving inquiries as I write about the future of the Wrexham site and of individual employees.
"I regret that this announcement will cause enormous distress.
"Can you please give me full information about Remploy's intentions?"