More talks on Flintshire council's snow clearance plans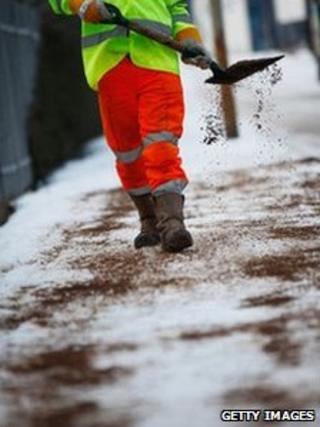 Flintshire councillors have asked for more information on plans which could see staff who cannot get to work in snowy weather clearing the paths of vulnerable residents instead.
Housing staff could volunteer for duties co-ordinated via Flintshire's Carelink service.
A report also recommends launching a "stay put scheme" advising vulnerable residents to stay in unless essential.
A further report will be submitted to councillors at a later date.
The environment overview and scrutiny committee was asked to approve a report detailing the scheme.
Under the scheme, people who need emergency provisions would have them delivered by such people as wardens and housing officers, with costs met by the council.
The report said: "Those vulnerable residents who must get out to essential appointments will receive help to do so by way of snow clearance, gritting."
Among other recommendations, the report also said: "When heavy snow arrives across the county which makes it difficult or impossible for some staff to get to work - it would be more practical for them to walk and support vulnerable residents who cannot get out - either by path clearing, dropping off emergency supplies or just carrying out support visits in their local area.
"The council's Carelink service should be contacted by staff that cannot get to work and they can direct staff to vulnerable people/areas."
A spokeswoman for the public services union Unison said: "If the health and safety of residents can be increased by employees carrying out alternative duties in very extreme circumstances then this would be an alternative to an employee having to take a day's leave if they could not make it to work.
"Due regard also needs to be given to the health and safety of employees to carry out the tasks required.
"These are emergency measures which I am sure would only be used on a very small number of occasions."
Flintshire council is not the only local authority in Wales considering similar arrangements in severe weather.
Neat Port Talbot council is considering asking managers to give advance consideration to how staff could work at different locations in such circumstances.