'Hitler' remark mayor survives confidence vote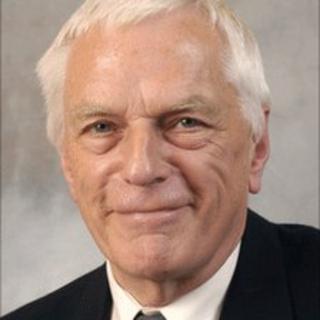 A mayor accused of referring to Hitler in a discussion about travellers has survived a vote of no confidence.
It was alleged that Prestatyn mayor Mike Eckersley said Hitler had the right idea in sending travellers back to their native country.
A Prestatyn town council meeting heard that the Conservative member was an "embarrassment" to his office.
But Mr Eckersley denied making the alleged remarks and said it had been an attack on his integrity.
He survived the motion by 11 votes to five.
Last November, Denbighshire council said Mr Eckersley had offered to apologise following comments he was accused of making during a debate at a corporate equalities meeting.
Christine Evans, the chair of the meeting, called it a "stupid" comment made on "the spur of the moment" during a discussion about travellers.
Dr Evans said Mr Eckersley "used the word Hitler and he said 'he got rid of them' or something like that".
She added: "It was a stupid remark and it was certainly not acceptable, particularly in an equalities meeting, although it probably wouldn't be a sensible thing to say in a pub.
"It was one of those spur of the moment remarks which was stupid but it's been blown out of proportion and he doesn't think like that."
Attack on his intregrity
Mr Eckersley survived the motion after a furious debate in which members accused him of bringing the council into disrepute and demanded he apologise.
Prestatyn town councillor Mike German, who proposed the vote of no confidence, was one of two councillors reported by the mayor to the public services ombudsman for comments made in the press about the mayor in November.
But the ombudsman refused to investigate the complaints.
At the meeting Mr German also revealed Mr Eckersley had alleged that the town council had not followed correct procedures in awarding contracts.
He later withdrew that allegation but Mr German said the allegations were a slur and embarrassment to the council and town clerk Nigel Acott.
Councillor Peter Duffy, who seconded the motion, called on the mayor to apologise.
"It is an absolute disgrace," he said.
At the meeting on Wednesday, Mr Eckersley read a statement in which he denied making the alleged remarks and said that he had always supported the call for travellers to have proper sites provided.
He said the criticism from other councillors had upset him and he saw it as an attack on his integrity.
Following Mr Eckersley's alleged remarks, the Welsh Conservative Party said it investigated immediately and had found no wrong-doing.
Denbighshire council said no complaints were made to its standards committee, but "concerns" had been raised.
It said at the time Mr Eckersley had offered to apologise for any offence at the next meeting of the equalities group, which is scheduled to take place in February.