Welsh language role row in Bodelwyddan 2,000 homes plan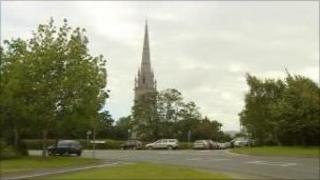 Around 80 people have attended the latest public meeting in a Denbighshire village to oppose proposals which could lead to it trebling in size.
Denbighshire council is looking at plans for up to 2,000 new homes, shops and a business park at Bodelwyddan.
A six-week public consultation is due to start on 26 January, but critics say an assessment of the role of the Welsh language in the community is flawed.
The council said the consultation would provide "many valuable suggestions".
The main proposals form a key development within Denbighshire's local development plan (LDP), which says the authority needs to build 7,500 homes across the county to meet a shortage between now and 2021.
Should the plan be adopted in its current form, 1,715 new homes could be built on land close to the village's Marble Church, along with retail and business units, a primary school, and a medical centre.
It would cover 100 acres (40.5 hectares) and include improved access to the A55. The village currently has around 900 houses.
The council has pledged to consider views of residents who face the prospect of a major development on their doorstep.
'Challenge'
But residents who set up Bodelwyddan Development Action Group say their village will change dramatically if the plans are agreed.
Villagers met at Bodelwyddan community centre on Monday evening, the sixth such public meeting in 18 months, to discuss the planned assessment.
Action group members said they believe the assessment is flawed, and does not fairly reflect the role of the Welsh language and its culture in Bodelwyddan.
They called on everyone present to challenge the document's findings when the consultation starts.
The council said the community linguistic impact assessment had been prepared as part of the progression of the LDP.
It said the recommendations included bilingual marketing of the site, increased provision of Welsh language classes, securing a Welsh medium primary school for the area and working with local colleges to develop skills and training programmes to enable local people to take advantage of development and employment opportunities.
'Strengthened'
Councillor Sharon Frobisher, lead member for the environment and sustainable development, said: "This consultation document highlights the importance of the Welsh language and culture within the county and provides many valuable suggestions as to how this can be strengthened in the Bodelwyddan area.
"Measures that can also be applied throughout Denbighshire."
The document is available at libraries, one-stop shops and on the Denbighshire website for six weeks from 26 January.
The responses to the consultation are to be included in the views gathered on the deposit LDP, which the full council is due to discuss on 8 April.