Wrexham student from Poland receives Diana Award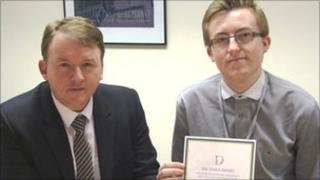 A student who moved to Wrexham unable to speak English has received an award named after the Princess of Wales for his work with migrant families.
Maciej Szukala, 16, was nominated for the Diana Award by his former school, Rhosnesni High, for his outstanding community work.
Maciej, who arrived in Wales from Poland in Year 8, was commended for his commitment and good citizenship.
The Diana Award is a lifetime honour presented to young people.
Maciej, who is now studying business at West Cheshire College, was nominated by head teacher Gareth Hughes.
Maciej said: "It was a big surprise. It's a really prestigious award so it was a very nice thing to receive.
"I was 11 when I came to Wales and communicating was not very easy but now I speak English really well!
"I try to act as a motivator. It makes me happy when others want to do their best."
Maciej has also acted as a young ambassador for the International Eisteddfod in Llangollen, received a Rotary International Award for his community work and been selected for the Wales youth basketball squad.
Mr Hughes said: ''As a school we are extremely proud of Maciej.
"He arrived as a Year 8 pupil from Poland with no English whatsoever. He quickly acquired the language but saw that a lot of his fellow pupils were struggling and wanted to help them.
"We have an English as an Additional Language (EAL) programme and Maciej was very helpful with those children.
"As a result of his work with migrant communities outside of school, he was given a Red Cross award.
'Positive difference'
"He was also my [pupil] deputy head in Year 11 and was actively involved in the youth parliament, the school council and the eco-committee. He is a complete all-rounder."
The Diana Award is presented to young people who make significant contributions to their communities and challenge negative stereotypes of young people.
Award holders automatically become members of the Diana Alumni programme, enabling them to continue their hard work and providing them with the skills to develop to their full potential.
"I was of the opinion that Maciej has done so much for the school that we needed to acknowledge it," added Mr Hughes.
"Pupils from the school have received the award in the past and Maciej is carrying on that tradition."
Diana Award chief executive Maggie Turner said: "This highly prestigious award gives young people of all abilities, circumstances and cultures recognition at a time when their life choices are still to be made, enabling them to make a real, positive difference to their communities.
"As individuals award holders change lives, but as a group of community entrepreneurs they have the power and ambition to build the cohesive society in which we would all like to live."