Canoeist dies after capsizing in river in Gwynedd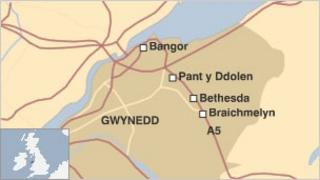 A canoeist has died after capsizing on a river in Gwynedd.
Police were alerted by a passerby who spotted two empty canoes on the River Ogwen between Bangor and Bethesda.
She alerted emergency services at 1225 GMT Saturday and an RAF helicopter crew joined the search.
North Wales Police confirmed a 57-year-old man died shortly after being flown to hospital. Another canoeist, who had been with him, managed to make his own way to safety.
He had been located at 1328 GMT by a passerby near a caravan park at Braichmelyn and did not need hospital treatment.
The other canoeist was found near Penrhyn Castle at 1415 but died after being airlifted to Glan Clwyd Hospital in Bodelwyddan.
A rescue helicopter from RAF Valley 22 squadron, coastguard, the fire service and ambulance were involved in the search.
The canoes had been spotted at Pant y Ddolen, near Halfway Bridge, between Bangor and Bethesda.
A force spokesman said: "The 57-year old man was canoeing with another man when their canoes capsized."
He added: "A lady had seen two unattended canoes in the river being swept down stream.
"Police responded and initiatied a search with the help of 22 Squadron and ourselves.
"A member of the public located one of the males and he identified to us as being one of the parties. He's not injured at all."