Bodelwyddan residents fight 2,000 homes plan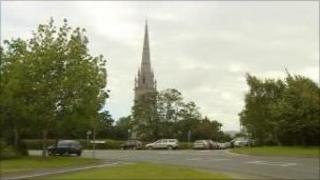 Denbighshire council has pledged to consider views of residents who face the prospect of a major development on their doorstep.
The authority is considering proposals for up to 2,000 new homes, shops and a business park at Bodelwyddan.
Residents who set up Bodelwyddan Development Action Group say their village will change dramatically if the plans are agreed.
They hold a public meeting later to discuss the issue.
The action group is concerned the authority has not yet sought their views on an "impact assessment" which considers the effects the development could have on the community.
But the council says a six-week public consultation is due to start on 26 January.
In any event, villagers meet at Bodelwyddan community centre on Monday at 1900 GMT to discuss the assessment.
Objection
It suggests how the "cultural character" of the area could be both protected and strengthened.
But residents say they are best qualified to give a response as to the development's likely consequences on local life.
The main proposals form a key development within Denbighshire's local development plan (LDP) which says the authority needs to build 7,500 homes across the county to meet a shortage between now and 2021.
It covers 100 acres (40.5 hectares) and includes a school, residential care home and improved access to the A55.
A Denbighshire council spokesman said: "The [impact assessment] document is still currently in draft form and work is on-going, so has not yet been made available to the public. Consultation will commence at the end of January."
He said all responses received to the LDP and impact assessment will be reported to a full council meeting in April prior to the plan being submitted to Welsh Assembly Government for examination.
The LDP will then be passed to a planning inspector to hold an "examination in public".
Anyone who has submitted an objection can state their case in person.