Planned bridge would link Denbighshire and Conwy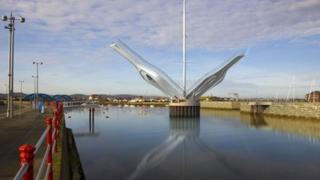 Plans have been submitted for a £4.2m bridge for walkers and cyclists which would link Denbighshire and Conwy.
The bridge, if approved, will span 80m (262ft) across Rhyl's Foryd harbour and walkways will lift to let boats pass.
Most of the cost will be met by European funds, with some money coming from the Big Lottery Fund via Sustrans, a charity which promotes journeys by foot, bike and public transport.
The proposed bridge has been described as a "truly iconic feature" for Rhyl.
The proposed bridge forms part of Sustrans' Connect2 project, which won £50m from the Big Lottery Fund in 2007 to develop new walking and cycling routes across the UK.
It will put £450,000 towards the project, with £3.75m from the European Regional Development Fund and Welsh Assembly Government.
The structure would bridge a gap in National Cycle Route 5 and would form part of the Wales Coastal Path.
The design was chosen following a public consultation in 2009, followed by a competition.
Councillor David Thomas, cabinet lead member for regeneration and tourism, said: "This bridge will be a truly iconic feature for the town of Rhyl and it is part of a nationwide project that will give people the freedom to choose to travel sustainably".
Glyn Evans, area manager for Sustrans, added: "This new bridge will provide a much needed link across to Kinmel Bay and the county of Conwy, which will make it so much easier and safer for people to make more of their everyday journeys without having to get in their car."