Hopes raised over future of Pontin's holiday camps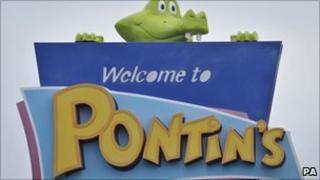 Hopes have been raised the Pontin's brand will continue as administrators confirm they have received 10 offers for the holiday camp chain.
KPMG said the majority of bidders were interested in keeping Pontin's going, which has camps in Denbighshire, Somerset, Sussex, Suffolk and Merseyside.
There is confidence a sale can be secured in the coming weeks.
Pontin's called in administrators in November with debts of more than £40m.
Rob Croxen, joint administrator of Pontin's and restructuring director at KPMG, said: "All employees, customers, suppliers and the various stakeholders involved in Pontin's have rallied throughout the administration process.
"Clearly this is a tough time for all concerned, but the level of support really reflects the goodwill the brand has earned over its long history.
"We have received a great deal of interest in the business and should be in a position to make an announcement on the sale of the business in the coming weeks."
KPMG said it had paid all staff wages for Pontin's 850 employees and said pension contributions were up to date.
All five sites - at Prestatyn in Denbighshire; Brean Sands in Somerset; Camber Sands in Sussex; Pakefield in Suffolk; and Southport, Merseyside - are being run as normal.
But in a blow to unsecured creditors, the administrators said they were unlikely to receive enough money from the sale to pay the £3.6m owed to them.
Pontin's, known for its Bluecoats entertainers, was established in 1946 and, at its height, owned more than 30 parks.
It was founded by Fred Pontin, who was seen as well ahead of his rivals when he spotted the trend for self-catering holiday villages.
In February 2009, Pontin's announced a £50m plan to redevelop its centres and create 2,000 jobs but eventually closed Blackpool Park in Lancashire.