Council to order urgent work on Mines Rescue Centre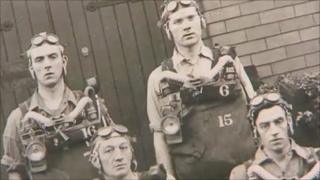 Wrexham council is to issue an urgent works notice on the owners of a former mines rescue centre.
The council's planning committee was advised to order £14,500 of work to prevent further deterioration and secure the building.
Demolition work was halted in August and heritage body Cadw listed the centre for its "special historic interest".
It is owned by former Wrexham FC chairman Neville Dickens.
The mines rescue station was opened to help find survivors of mining accidents.
Those who trained there helped in the mission to rescue miners from the 1934 Gresford disaster, when an explosion claimed the lives of 266 people.
The centre closed in the 1980s and campaigners have long called for its preservation, despite planning permission to demolish the building being granted two years ago.
In August 2010, Wrexham council stopped demolition work, claiming the correct procedure had not been followed.
"Unauthorised works"
Shortly after, Cadw listed the building with "immediate effect" in order to preserve it.
On Monday, Wrexham planners considered whether to insist that works are carried out to "ensure it is protected from further deterioration and made secure following damage caused by unauthorised works".
Planners were recommended to make the order under the Planning (Listed Buildings and Conservation Areas) Act 1990.
The act allows the owner to make any representation to the Welsh Assembly Government within 28 days of the order being made.
The owner is entitled to claim back the cost of the works.