Flintshire mental health team win pyschiatrists' award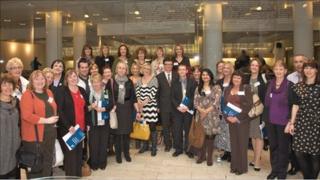 A group helping young people with mental health problems have been honoured by the Royal College of Psychiatrists.
Flintshire Children and Adolescent Mental Health Services (CAMHS) are Specialist Child and Adolescent Mental Health Services Provider of the Year.
Officials said they were proud of their quick referrals, and claimed waiting times were the lowest in Wales.
Judges said they made a "real difference" to lives.
The Flintshire CAMHS said it had lowered waiting times by "modernising the workforce, redesigning assessment intervention and therapy and continual efforts to eliminate delay and repetition".
Professor Dinesh Bhugra, president of the Royal College of Psychiatrists, said: "Through the RCPsych Awards, we bring national recognition to those individuals and services who are delivering the highest quality mental health care."
Dr Peter Roots, a child and adolescent psychiatrist and a member of the Flintshire CAMHS, said the service's two teams were "delighted".
He added: "Their enthusiasm and flexibility have enabled the service to continually adapt to the changing needs of young people in Flintshire."
Thirty members of the service were presented with their award at the Royal Society of Medicine.