Deeside-based figure skaters crowned British champions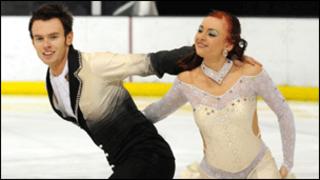 Two Flintshire-based figure skaters are celebrating after being crowned British champions.
Owen Edwards, 23, from Wrexham and Louise Walden, 26, from Preston in Lancashire, won the senior ice dance class of the British Ice Figure Skating Championships.
The pair train at Deeside Ice Rink in Queensferry.
They have won three gold medals in their last three competitions as well as the Welsh Senior Ice Championships.
Wins include a gold at the International Trophy in Lyon, France, and gold at the Ice Challenge in Graz, Austria.
Their winning streak has put them in the world's top 20 skating couples.
Mr Edwards said: "Of course the goal is always to win, but for us this season our realistic target was to make the top five in as many of our competitions as possible.
"This season we have constantly improved our personal best scores and beaten people we have never beaten before.
"It is more than we could have hoped for and we have achieved the maximum number of world ranking points allowed from the events we have attended.
"I'm just feeling shell-shocked."
His skating partner added: "We are extremely proud of this achievement.
"It's huge to have our names on a trophy alongside some of the world's greatest skaters such as Jayne Torvill and Christopher Dean."