Cheap energy hope with Wrexham university solar cells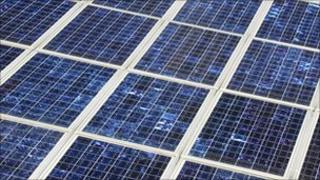 A £4.4m project to develop new photovoltaic (PV) cells could result in cheaper, more efficient solar energy, says Glyndŵr University in Wrexham.
The university's Centre for Solar Energy Research (CSER) hopes to develop cells designed to collect solar energy from Wales' weather conditions.
Researchers will work with scientists from Bangor and Swansea universities.
Glyndŵr University says it has been estimated PV solar cells will provide 20% of Welsh electricity needs by 2050.
However, it says take-up has been slow due to high costs and the cells being unable to gain maximum efficiency from solar energy in countries with temperate climates like Wales.
The university said its research would help to tackle both challenges.
Its target is to create 50 jobs through the project: through the research itself, the supply chain and from companies benefiting from increased take-up of solar cells.
Professor Stuart Irvine, director of the CSER, in St Asaph, Denbighshire, said: "We have world-class facilities in St Asaph with the capability to see everything through from initial research to the production of small thin film solar cell modules.
"We're currently operating with cells of 5cm square but the aim is to get up to test modules of 30cm square - taking us much closer to a size of solar cell which can be used commercially to provide the future electricity needs of Wales."
The three-year project is part-funded by the Convergence European Regional Development Fund, which is distributed by the Welsh Assembly Government.