Polish women's support group among those celebrated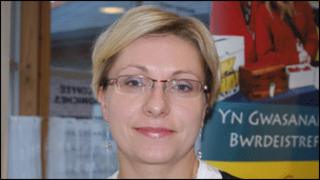 A Big Lottery-funded scheme which has led to the formation of community groups in a deprived estate has been celebrated in Wrexham.
The Fair Share programme has provided grants which enabled people in Caia Park to set up their own support and advice groups in a bid to promote "community cohesion".
Among them is mother-of-two Agnieszka Tenteroba, 34, who set up the Polish Mothers Group.
She was among dozens of people who received certificates from Wrexham council leader Aled Roberts, recognising their achievements.
Here she tells her story, and explains why the programme has been so important.
I live in Caia Park, Wrexham, and have two daughters Sara, four and Hannah, two.
Five years ago I moved to Wrexham to join my husband, Arkadiusz, who had a contract to work in a factory on the Wrexham Industrial Estate.
I gained a short-term post as a development officer at Caia Park Partnership and worked closely with the Fair Share support and development worker, Tracey Prandle, and I was able to develop and drive my own initiative as part of my work.
And so, the Polish Mothers Group was born.
I was a struggling first-time mother myself and I was in need of information and support. I decided to see if I could help other Polish women in a similar situation, because many of them had just basic English, or no English.
We managed to get funding to set up the group.
It supported about 10 mothers and their children, with advice on living in the UK, familiarisation with the British way of life plus other topics.
We all knew when we came to live here that it's a completely different life. You have to change your life, your culture.
I try and encourage as many of my Polish friends as possible to learn English.
We tried to offer support in many other areas, from arranging health visitors, to translating documents, potty training and bed time routines.
We also organised a trip to Chester Zoo which was funded by Fair Share.
We tried to build our friendships and support each other.
Popular
Over 18 months the meetings in Caia Park proved so popular they spilled over into nearby Gwenfro House, too.
It was a very good time, and the group worked well. It ran for a year-and-a-half.
But then peoples' needs changed. Children grew older and went to school and many of the mothers went back to work.
So, from this, The Polish Family Group has now emerged to include fathers as well, to promote good parenting and family life. It's for all members of the family and are now looking for a venue.
I discovered Wrexham Council was very supportive of Polish families and the council's prevention and inclusion arm is helping to develop this further
We now have funding for the group until March, and we're trying to get more funding from elsewhere.
I want to thank Fair Share for their help. It gave me the chance to go forward another step to help other migrant workers. I love every minute of my work.