North Wales hillfort test of Iron Age communication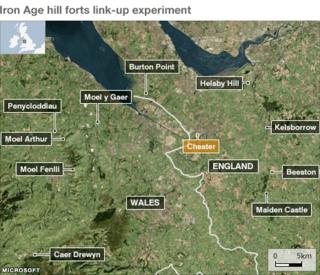 An experiment has shed light on how Iron Age people communicated from their hilltop homes 2,500 years ago.
About 200 volunteers stood on the summit of 10 hillforts in north Wales, the Wirral and Cheshire, and signalled to each other with torches.
Their aim was to learn if communities used the summits to warn each other.
"It was a success," said archaeologist Erin Robinson. "It captured the public's imagination and we made extra links we did not think were possible."
Saturday night's Hilltop Glow event was rescheduled after December's severe weather.
The ancient sites used were on the Clwydian Range; Halkyn Mountain, near Holywell, Flintshire; a lowland site at Wirral; and the Sandstone Ridge, Cheshire.
Beacon fires have previously used on hilltops around the UK to mark the Queen's golden and silver jubilees.
"Most of the hill forts across the surrounding landscape can be seen from each other," explained Ms Robinson from Denbighshire's Heather and Hillforts project.
"The experiment was aiming to see if the glowing fires could have been seen across the hills and acted as a communication or warning system."
Ms Robinson, who climbed to the Moel y Gaer hillfort, near Mold, Flintshire, said she was able to see signals from high-powered torches from all but one hill top.
"It was fantastic," she said. "We saw all the way to a hilltop in Cheshire, which we weren't sure we'd be able to do."
Ms Robinson said the furthest link was made between hills at Burton Point on the Wirral and Maiden Castle, at Bickerton Hill in Cheshire, a distance of approximately 25km (15.5 miles).
"It was a hard thing to organise but it seems to have captured the imagination of the communities involved. We brought the hills alive."
Both the Heather and Hillforts and Habitats and Hillforts projects are Landscape Partnership Schemes funded by the Heritage Lottery Fund.