Flintshire beekeeper died after she was stung at hive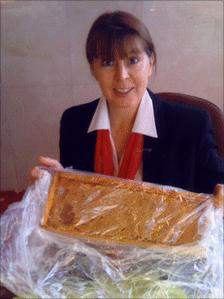 A 47-year-old beekeper died after she was stung while tending a hive, an inquest has been told.
Alison Piercy, from Hawarden, Flintshire, kept bees in her spare time with her nephew Max Howe, 12.
She died after being stung below the eye while checking a hive in Connah's Quay, Flintshire.
The Flint inquest heard she had been stung before, but this could have been a different type of bee. The coroner recorded a verdict of accidental death.
Ms Piercy, a receptionist at the headquarters of building company Redrow at Ewloe, became interested in bees after watching people beekeeping at Hawarden Castle farm shop, where she worked part-time.
She was stung last April as she and Max checked a hive with bee specialist Ken Rawlings, who had inspired her to take up the hobby.
Max removed the sting, but she deteriorated quickly.
Mr Rawlings administered cardiopulmonary resuscitation (CPR) but she was pronounced dead later at the Countess of Chester Hospital.
The inquest heard Ms Piercy died from asphyxia due to a bee sting.
A pathologist said she could have been stung by a different type of bee, or had a rare hypersensitivity which meant she had not built up a tolerance to stings.
Delivering his verdict, assistant deputy coroner for north east Wales, Kirit Champaneria, said Ms Piercy, who leaves a 21-year-old daughter, was knowledgeable about bees.
He added that Max "had done a great job and must miss her terribly".