'Wales pushing for more green jobs', minister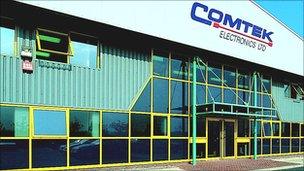 A new hi-tech laboratory marks a big step ahead in Wales' drive for green jobs, said First Minister Carwyn Jones.
The facility at Comtek, Deeside, will employ 25 people providing repairs rather than replacement to complex communication equipment.
Meanwhile, the Deputy First Minster was at Sharp's Wrexham factory which is doubling production of solar panels and creating "hundreds of jobs".
Ieuan Wyn Jones said skilled jobs could "push Wales up the prosperity league".
Comtek says investment in its new lab is central to its work to repair faulty communications products for industry, extending equipment lifespan by up to four times.
Carwyn Jones said: "Today's official opening marks a step ahead for our drive for economic renewal and green jobs.
"Comtek has grown from strength to strength by combining cutting edge technology with sustainability - helping to change a throw-away culture and reducing global pollution."
Deputy First Minster, Ieuan Wyn Jones, was visiting Sharp's factory in Llay, Wrexham, on Friday following their announcement this summer that "hundreds" of jobs will be created by doubling production of solar panels.
The first of three new production lines is due to start next month with the others planned for February.
It's not yet known how many jobs will be created in the £35m investment as production is new and yet to be tested to confirm how many further staff will be needed at the factory which employs 750.
Ieuan Wyn Jones said: "These are real, green jobs in one of the sectors we are working hard to develop. Our new economic policy focuses exactly on this kind of advanced manufacturing so we can push Wales up the prosperity league."
Earlier, the First Minister officially opened Bodlondeb, a new £4m centre of excellence in Wrexham to look after people with dementia and which is creating 100 new jobs.
Related Internet Links
The BBC is not responsible for the content of external sites.