Flintshire parents to bring disabled son home in months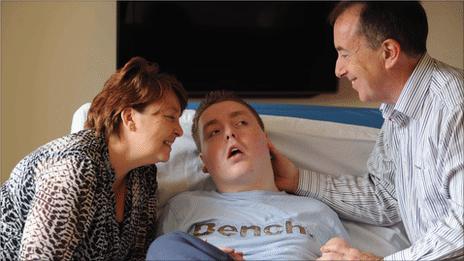 The father of a teenager who became disabled after choking on chewing gum says an agreement means his son could finally be cared for at home.
Rhys Thomas, 19, of Holywell, Flintshire, is unable to speak, see, or move after gum became lodged in his windpipe in 2007.
He is still in a care home and his father Grahame has been campaigning to have his son brought home.
The Betsi Cadwaladr University Health Board has been asked to comment.
Rhys was 15 when he had been chewing gum before he went to bed.
It became lodged in his windpipe and he suffered a heart attack, thought to have been caused by lack of oxygen.
He is currently cared for at a home in Colwyn Bay, Conwy.
Mr Thomas said the family were initially told they could bring Rhys home for 24-hour care by 1 November, but spoke of his frustration after the move was delayed.
At the time, he told the BBC News website: "In the meantime we're concerned, with all the cuts that are happening at the moment, that someone might actually say it's too expensive to bring him home."
However, Mr Thomas said an agreement had now been reached.
He said: "The Betsi Cadwaladr University Health Board have agreed a package of care in the community with the Leonard Cheshire organisation, the same group that are looking after him at the moment.
"The advert is out for staff to come and work with him at home.
"The timescale, we're led to believe, is no later than 1 March."
Mr Thomas, who will sit on the interview panel for potential carers, said any staff recruited would need to be trained before caring for his son.
He said it was "disappointing" Rhys would not be home for Christmas, but welcomed the "positive" news he could be home within months.
Related Internet Links
The BBC is not responsible for the content of external sites.