Question sessions over closure of Corwen Pavilion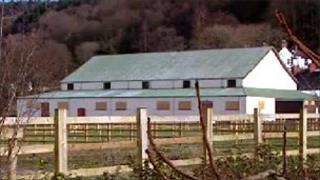 Plans to knock down Corwen Pavilion are the subject of a series of question and answer sessions hosted by Denbighshire council.
The council put forward a bid last month to demolish a building it says is beyond economic repair, and if approved demolition would be in January.
Officials are available at the One Stop Shop/Library until 1600 GMT on Monday.
There are further sessions on Tuesday (1400 - 1900 GMT) and Thursday (0930 - 1600 GMT).
The pavilion was temporarily closed last March after asbestos was discovered and the closure was made permanent the following month.
The council said the decision to pull the building down was made after consultation with the Corwen Pavilion working group, which was set up to use the site to promote Welsh culture.
It claims the 99-year-old building - which once hosted concerts and a variety of other events - poses a risk to the community while it lays empty.
The council will issue a six-week statutory notice of its intention to remove the pavilion.
It has previously been estimated that the building will cost between £2m and £3m to replace.