Plans to 'revolutionise' Prestatyn High Street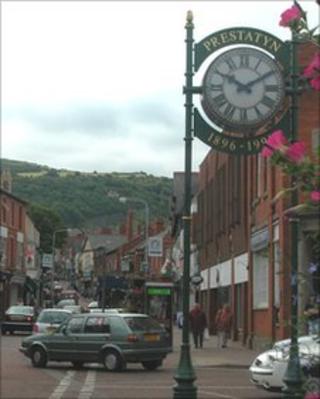 Plans for a long awaited town centre redevelopment are going before residents in Denbighshire.
They're being asked to give views on proposals which could "revolutionise" Prestatyn High Street, including a range of shops and a Tesco store.
Residents have been waiting years for the redevelopment of land behind High Street premises.
Tesco submitted its proposals a decade ago, but they were shelved when a developer took over an adjacent site.
Since then the two parties have been working together on a joint proposal, but the economic downturn put the scheme on hold.
Now the developer, Stadium, has formally submitted new plans to Denbighshire council and they have gone on public display.
The application includes 18,753 sq.m of retail floorspace, 800 car parking spaces, and a petrol station behind the High Street and adjoining Nant Hall Road which was occupied by a Somerfield store and other premises.
Nothing has confirmed regarding the number of shops or the potential occupiers but M&S is believed to be another big name involved.
"This has the potential to revolutionise Prestatyn with quality shopping, jobs and redevelopment," said Coun James Davies, chairman of Prestatyn's town development committee.
The plans are being shown at Scala Cinema and Arts Centre, High Street, until 6 October.
A date has yet to be confirmed as to when the plans will go formally before Denbighshire council.