Claims sat-nav systems can not find Wrexham estate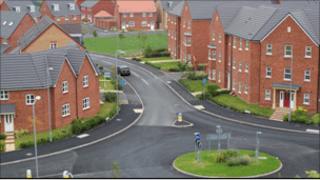 A councillor claims residents on a Wrexham housing estate are at risk because emergency services' satellite navigation systems cannot find it.
Paul Rogers claims the majority of about 500 homes on the estate at Brymbo are affected, despite some of the properties being occupied for nearly three years.
He said he has raised the issue with Wrexham council and emergency services.
Wrexham council said updated plans has been sent to the relevant services.
Mr Rogers, a Brymbo councillor, said: "Concerns were first raised by residents during the severe weather last winter.
"I think there had been an accident on bad ice and the paramedics couldn't find the development.
"The bulk of the concerns are from people who have called an ambulance or reported low-level crime."
'More questions'
Mr Rogers said he was mainly concerned with the ambulance service because police officers usually had a better knowledge of the area through routine patrols.
He added: "I think there needs to be more questions asked and it needs looking at.
"The response I had from the ambulance trust basically said 'thank you for raising the concerns,' but there were no real answers on it."
The Welsh Ambulance Services NHS Trust has been asked to comment.
Lawrence Isted, Wrexham's chief planning officer, said all new street names, numbers and plans were sent to emergency services as well as Royal Mail and Ordnance Survey.
He said it was up to the individual services how quickly their systems were updated.
He added: "All the local authorities in England and Wales maintain a land and property gazetteer containing every road and property.
"In Wrexham we update the change information to a national hub on a daily basis.
"An all-Wales project team is currently in discussion with Police and Fire about taking a direct feed from the Land and Property Gazetteer, dispensing with the requirement to supply individual updates.
"We are hoping to carry out a trial, initially with South Wales Police and South Wales Fire and Rescue services once we have agreement and changes to their infrastructure can be implemented."