Shallow grave killer Reszpondek loses appeal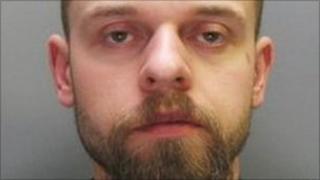 A Polish dairy worker serving a life sentence for murdering a colleague and burying her body in a Wrexham field has failed to overturn the conviction.
Lukasz Reszpondek, 29, was found guilty in November 2009 of murdering Indonesian-born Ermatati Rodgers, 41.
Three judges at London's Court of Appeal rejected claims a manslaughter verdict should be substituted.
Reszpondek was ordered to serve a minimum of 18 years in prison before he can be considered for parole.
Mrs Rodgers, known as Tati, went missing in January 2008.
She and Reszpondek had met working at a Wrexham dairy.
Her body was not found until 14 months later when police saw him digging in a field nearby following a surveillance operation.
He stored her location in his satellite navigation system under Tt - short for Tati.
On Tuesday, Reszpondek's barrister, Jeffrey Samuels, claimed a manslaughter option should have been offered to the trial jury.
At the trial, Reszpondek claimed Ms Rodgers had been at his home, but had died naturally and by accident while he was having a shower elsewhere in the house.
He claimed he panicked and buried the body, worried his wife in Poland might find out there had been a woman in the home but he denied having a sexual relationship with his victim.
Rejected the argument
He admitted preventing the lawful and decent burial of her body.
Evidence suggested that an injury Ms Rodgers' neck could have been caused by a punch, kick or forearm block.
Mr Samuels told the Court of Appeal that manslaughter was a legitimate verdict on the basis of a minor assault gone wrong.
He said there was insufficient evidence for a jury to safely conclude Reszpondek had intended to cause Ms Rodgers serious harm or to kill her.
However, Lord Justice Hooper, Mr Justice Owen and Mr Justice Roderick Evans rejected the argument.
Lord Justice Hooper said Reszpondek's immediate reaction to the death was evidence he had done something very wrong.
He found the body and had not called for help, he said.
He added: "Looking at his immediate reaction, looking at the evidence he gave to the jury that he had absolutely nothing to do with her death, the jury would be entitled to say that that is the reaction and that is evidence of someone who has murdered, rather than merely committed some minor assault."