Blind bowlers take on sighted players in Wrexham match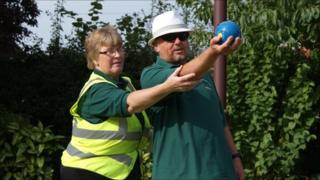 As ball games go, it hardly seems like a fair match.
But Wrexham's Blind Bowling Association are confident they can beat their sighted opponents in an unusual contest.
The second "Blind Man's Buff" match is underway in the town, between the association and local mens' charity the Buffaloes.
It was launched after the charity sponsored the association, and sighted bowlers wear blanked-out glasses.
Colin Gibbs, a bowls player and former chairman of the Blind Bowling Association, said the charity sponsored the association three years ago after one of its members joined the Buffaloes.
The Buffaloes - known as "Buffs" - presented the association with a buffalo horn trophy.
It was decided that the two sides should meet at the end of every season to compete for the Blind Man's Buff trophy.
Sighted bowlers are asked to wear blanked-out spectacles.
Mr Gibbs said it was "extremely difficult" for the blind bowlers.
He added: "They use a clock system, so 12 is behind the jack, six is in front, nine to the left and three to the right, and then they are told how many yards.
"They use have coaches with them, who can help tell them how the green is running."
He joked: "Then it's up to luck."
Blind bowlers have various degrees of vision, and are helped to walk up and down the green by their sighted counterparts.
But underneath the comradeship, both sides take the contest seriously.
Mr Gibbs said: "It may look very placid out there, but there's a hell of a lot of paddling going on underneath."
The Buffaloes - the Wrexham and Province District of the Antediluvian Order of Buffaloes - are reigning champions for the competition which is in its second year.
Secretary Frank Maddocks said: "I'm not a bowler, I haven't been on a green since my youth.
"It's difficult. It's great fun, but when you get those glasses on it completely disorientates you, and I wouldn't put it past them to turn me round in the opposite direction when I'm bowling.
"It's all a great laugh."