Flintshire-based Redrow returns to profitability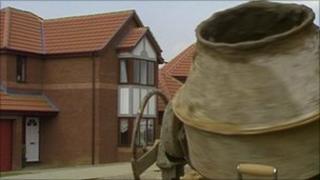 Flintshire-based house-builder Redrow Plc has reported a pre-tax profit of £700,000, a year after making a pre-tax loss of £44.2m.
The huge swing is thanks to an overhaul of the business, higher selling prices and more home sales, the company said.
The average selling price is up nine per cent to £149,300.
However, uncertainty from government spending cuts and tax increases have dented house sales since May, the Ewloe-based company said.
Chairman Steve Morgan said: "In volume terms Redrow has seen a small reduction in the number of reservations in the first ten weeks of our financial year."
As well as house prices rising, the number of legal completions also increased 22% to 2,587 homes.
Mr Morgan added: "The past year has been one of considerable change for Redrow - change that has resulted in a return to profitability.
"We have introduced a great new product which is proving popular with consumers, doubled our build output in response to an improved sales market and embarked on an ambitious land-buying programme.
"Our regional teams have coped enthusiastically with the changes and we are now well placed to respond to the demands of growing the business in a challenging environment."
He said the company remained in a "period of tough economic conditions and political uncertainty" but was in "good shape to continue to make progress".